Update from the Road
Originally published in July 2021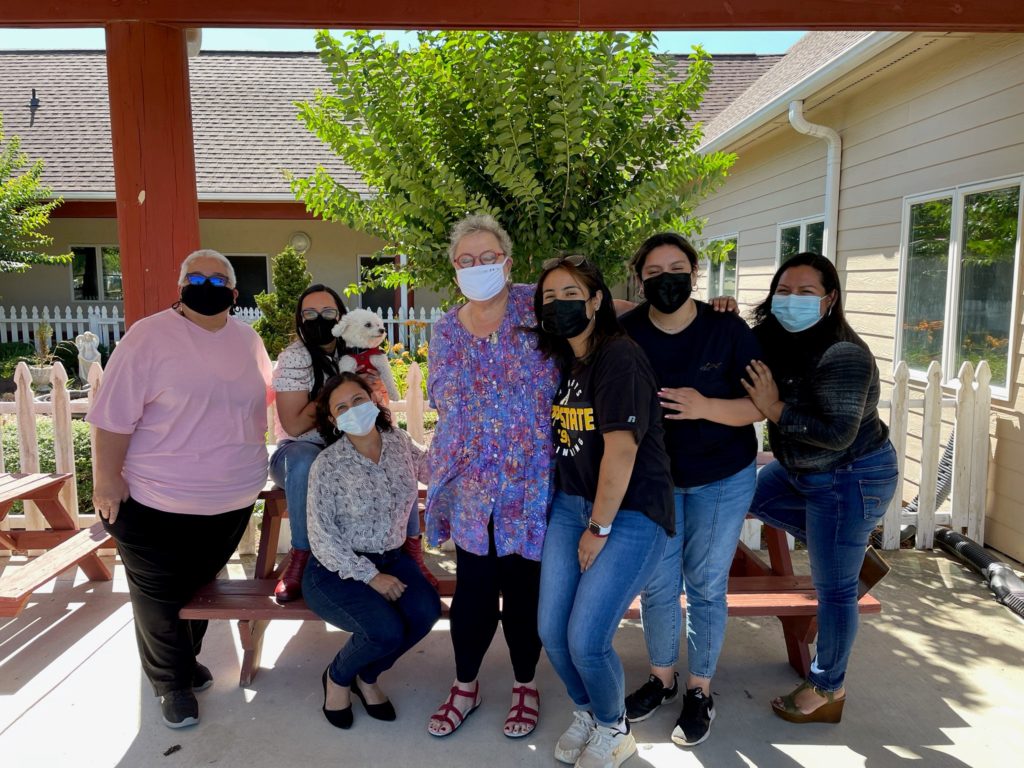 Since we left Asheville last week, my colleague, Bethsaida Ruiz, and I have made our way across North Carolina and are now in Elizabeth City at the top northeastern corner of the state. After visiting with four organizations that have been part of our TAKE 10 trainings, our first observation is that all of the groups we have met with do an amazing amount of work with very small and limited budgets. We are in awe of how much they are able to accomplish with so few resources.
The need for more capacity is a theme repeated by all the groups we have visited.
Building for Their Community
Our first visit was to Episcopal Farmworker Ministry in Harnett County. Their leadership program is working on public policy, voter engagement, helping people renew green cards, apply for citizenship, and many other legal issues. They have an outreach program to the low-income African American community to help Black and Brown people to work together.
Building things is also their thing! They have created a large soccer field and just finished building a community playground, where they invite all community members to come, not just farmworkers. They built an outside shelter with roof only, no walls and a platform – the only place large enough to have everyone meet, during the sweltering heat in the summer or freezing cold in the winter. We saw a big (new) warehouse full of food where they make up boxes to distribute to needy families. Another smaller warehouse is where they gather clothing donations and sort by sizes and kinds, to distribute to needy families. They built a shelter with a pollinator living roof garden to shade their sales booths, where they will be able to have a weekly store for their homemade crafts and herbal products.
The Volunteers and Staff Are Incredible
The staff wear many hats, like Lucia. She doesn't speak English but is starting to learn, and proudly spelled her name for me in English. She started as a volunteer and became a part-time janitor for the organization, also helping with childcare and cooking for events. Now Lucia runs the Mental Health program, working one-on-one with individuals suffering from trauma (especially from COVID-19 deaths and those who lost their homes in the last two hurricanes), with groups that meet bi-monthly.
In these groups Lucia teaches meditation and relaxation techniques. She started a Women's Group with four projects: clothing donations and yard sales to raise money for the Women's Group, an Herb Garden Project, cooking classes and craft making, and a women's circle. In the herb garden, they learn to grow herbs and about their medicinal value. They turn the herbs into soaps, shampoos and medical creams that treat everything from bug bites to sore muscles. At cooking classes, each woman brings a favorite dish from their country and teaches the others how to cook it and about their culture. The women's circle teaches self-worth and gender equality, shares knowledge and demonstrates how to speak out publicly about their rights.
Vision and Promise
We met so many women like Lucia who also run lots of programs: Maria, Anai, Joanna and the Executive Director, Lariza. Their needs are great – more training, additional staff including a paralegal, and another program person.
Our work is critical for them. We are leading folks we've met with in a five-year visioning process to determine their future. Their visions are real and concrete about where they want to go and how they want to grow. While this is the first group we visited, we have seen three more with equally compelling stories to tell. And, we have nine more groups to visit! We'll be updating you along the way.